The phrase to throw the baby out with the bathwater means to discard something valuable along with other things that are undesirable.

It is a loan translation from the German phrase das Kind mit dem Bade ausschütten, literally to empty out the child with the bath, first recorded in 1512. For example, in German Literature, translated from the German of Wolfgang Menzel1. By C. C. Felton2 (Boston, Massachusetts – 1840).

Often when looking at enterprise software, we want to go with the latest and greatest technology , sometimes are the expense of our existing infrastructure and client base.
How many of you use the fax every day? Interestingly enough we hear disturbing rumors that over 20 years since the birth of the commercial Internet, fax machines remain in wide use in the economy.
According to CBinsights
Robinhood CEO Vlad Tenev said most traditional stock brokerages "still run on paper and fax machines."
And get this
The worst offender appears to be the US health care industry. Surveys show a majority of medical communication, including sharing of patient data, still happens by fax.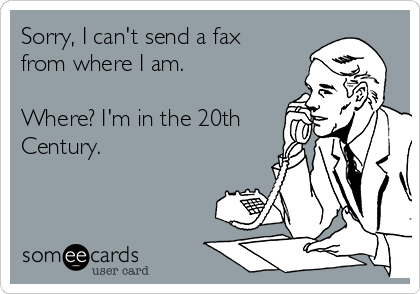 Might the use of fax machines be positively correlated with an industry's lack of innovation?
or Is this just an American thing like writing checks?
While we may not understand fully this somewhat old school approach, we at TSH still have your covered.
The MDS-Nx System is specifically tailored to the needs of the health care community. So it is no surprise, We offer an integrated fax option for all your documents and customer communications. Better yet when using our Cloud based software there is just one low monthly fee including all faxing, emails etc. and no usage based pricing so you can have as many clients and orders and product as you like.
So while we do encourage you to drop the fax , we don't look down on it.
on the contrary , whatever your needs, we provide..
So keep on faxing, we got this..
For more information on TSH or MDS call The Systems House, Inc. at 1-800- MDS-5556.
Or send a message to
sales@tshinc.com
Click here and tell us how we can help you with your business solutions.