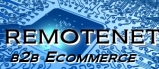 Competing in today's marketplace means leveraging technology to level the playing field. By taking advantage of Visual Search,
predictive analytics
, multi channel communication,
mobile technology and social media you can make your company a leader in sales, service and leave your competition in the dust.
With our latest release of the RemoteNet Web Platform , The Systems House, Inc. delivers on these key technology elements offering both a standalone Ecommerce solution or a fully integrated ERP solution with the RemoteNet Web Platform.
Take a quick tour of RemoteNet online at
www.medicaldistributionsoftware.com
or view the long list of enhancements below that will keep your company at the cutting edge of emerging technologies.
Updated Search Engine
Blindingly fast response times with multiple keyword search

Visual auto complete with images

Top selling items automatically added to search

Options for Grid View, List View, and Detailed item View
Add Suggested Items logic based upon current sales analytics like Amazon.com

Automatically create categories for Overstock, Best Sellers, Hot Sellers and Returned Items using

Inventory Management parameters and analytic tools.
User Shortcuts

Current Order Quick View

Specials of the Day

Search by Category

Export your order to excel,pdf

Contact Information with Live Help Option for Real-Time Chat
Highlight Specials and Product Categories
Show a pop up of the Daily Special each time that a user logs in or creates a new order.

Add a note to the Check out Screen highlighting a product group or category

Add Suggested Re-Orders to the Check Out page
Stock Email Alert to allow a customer to get an email alert once a back ordered item is in stock

Send emails about orders left on hold or abandoned cart reminders

Send Suggested Re-Order emails, on a timed basis to allow you to focus customer ordering patterns
Customer Tools
Allow customers the ability to upload orders via a spreadsheet

Allow customers the ability to create their own Bar code catalogs , reorder sheets and create orders by scanning and uploading to the website using the MDS ScanConnect Tool.

Allow customers the ability to download a copy of their web order in pdf/excel/html/ms-word/jpg

Give Customers the ability to view and download Invoices and Statements in a pdf

Allow customers to use any Language to to view your website using Google translate
Salesman Automation and Remote Access Tools
Mobile and Social Media
New responsive templates for mobile and tablet access

Integrated Social Media with option to automatically update a Blog, Facebook, Twitter, LinkedIn etc.

Update Social Media automatically with daily product specials , top sellers, overstock items and other prebuilt templates.

Link from Hash tags to track social media activity to orders placed on website.
For more information on TSH or MDS call The Systems House, Inc. at 1-800- MDS-5556. Or send a message to
sales@tshinc.com
Click here and tell us how we can help you with your business solutions.