Food for Thought... According to HubSpot.com - A marketing and sales software company.
Customers believe that sales reps are 88% knowledgeable on product and only 24% on business expertise.

Nearly 57% of B2B prospects and customers feel that their sales teams are not prepared for the first meeting.

A whopping 68% of B2B organizations have not identified their their sales processes and marketing tactics.
So we can see that most companies as well as the sales people really need some help in figuring out how to effectively increase sales.

When asking business leaders about their sales performance, a common reply is they could do better, but aren't sure how. They point to the following common issues as they relate to their salesforce:
Lack of direction/focus.
Not knowing what they are doing or where they spend their time.
Not selling other existing products/services to existing accounts.
Unsure if they are pursuing new customers.
Add to all of this, the less than favorable business climate facing distribution and it would seem to validate the need for improvement in the sales discipline and a great opportunity for those who do so. But where to focus? How to Grow?
Here's an easy reality check. As a distributor, you have a purchasing department. Ever ask them about their frustrations with vendors? Solicit their feedback and see if your organization mirrors any of it. Perhaps there are immediate actions you can take to improve your performance as a supplier.
These are the simple, "low hanging fruit" we can start with.
Need some more ideas?
Lets see what the
Russians
think..
The
Ansoff Matrix
is a
strategic planning
tool that provides a framework to help executives, senior managers, and marketers devise strategies for future growth.
[1]
[2]
It is named after
Russian American
Igor Ansoff
, who came up with the concept.
Using an Ansoff Matrix, you can get a quick snapshot of what opportunities exist: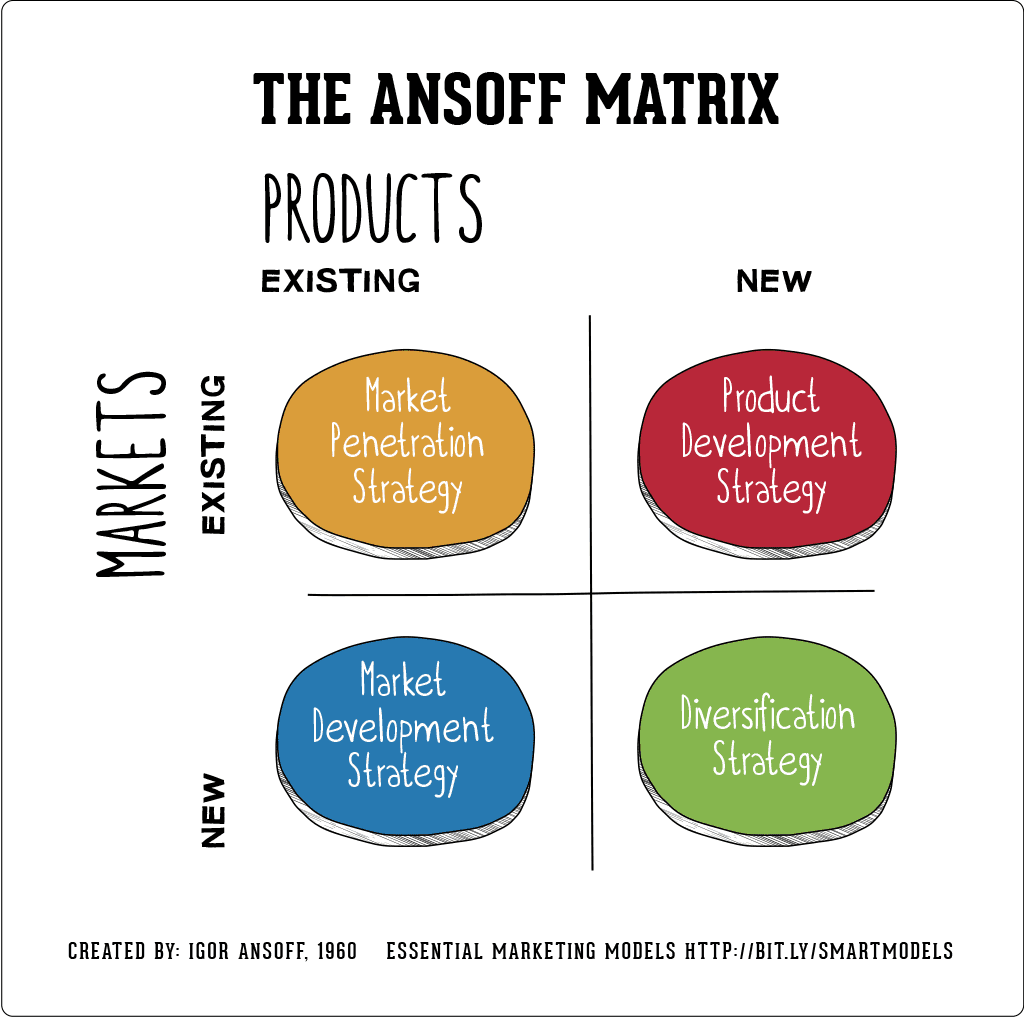 The obvious choices for growth are promoting existing products into new markets and adding new products to promote to existing customers. Of course, after maximizing these options, the final one is full diversification via new products and markets. Remember however when choosing new markets you should include customers and industries and with proper analytics, you can identify which ones are most profitable and should be pursued using your ERP System. (If you can't - Call us...)
While the Ansoff Matrix suggests diversification is new products and markets,
expanding your existing products with existing markets is also diversification and the easiest and most profitable method for growth.
In our parlance a much better example of low hanging fruit.
So to summarize:
1. Ask your purchasing team what the headaches are as a buyer and make sure you don't have the same problems.
2. Follow the crazy Russian and sell more to the same folks, one suggestion is to use our comparative sales analysis tools which allow you to take a prototype client and compare their purchases to other customers to see what you should be selling them. But the concept is all you really need.
Ready to Grow? Need a Partner to Grow with?
For more information on TSH or MDS call The Systems House, Inc. at 1-800- MDS-5556. Or send a message to
sales@tshinc.com
Click here and tell us how we can help you with your business solutions.