Eastside Fastest-Growing: Customer service is HyGen's RX for success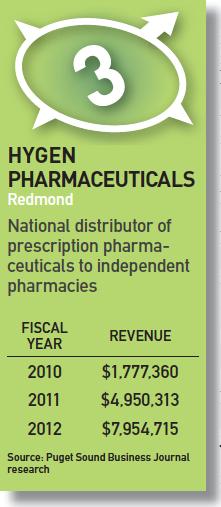 The key component behind
HyGen Pharmaceuticals Inc.'s
phenomenal growth over the past year is intrinsically tied to the company's founder and CEO,
Nishit Mehta
, and his views on customer service and technology.
Between 2010 and 2012, total revenue for the company jumped from $1.78 million to $7.95 million, an increase of 347 percent. Between 2011 and 2012, according to the company's financials, revenues rose from $4.9 million to $7.9 million, an increase of 61 percent. Mehta declined to provide projected retail sales for 2013.
The Systems House has worked closely with HyGen as their technology provider and congratulates HyGen on the rapid growth they have recently experienced.
HyGen opted for a cloud computing system that allowed it to access the new technology it needed via the Internet. By doing so, it kept costs low while improving its ability to effectively manage its supply chain. HyGen chose The Systems House, of Clifton, New Jersey, to deliver its system as a service. The Systems House's Master Distribution System (MDS) software, tailored to the needs of health care supply distributors, can be managed either by a client on its own premises or as a service, hosted remotely on IBM AIX software and taking advantage of Rocket Software's Universe Database Technology.
Of The Systems House's new customers in 2012, over 75% chose to access their software via the cloud-based delivery model.
For more information on TSH or MDS call The Systems House, Inc. at 1-800- MDS-5556. Or send a message to
sales@tshinc.com
Click here and tell us how we can help you with your business solutions.
..